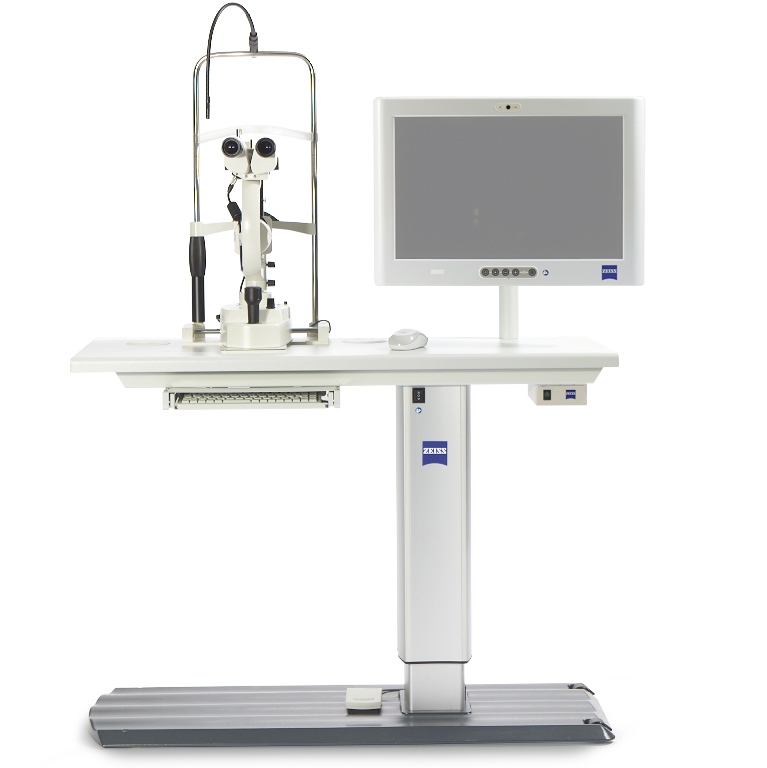 ZEISS SL 115 Classic including Instrument Table IT 1060, SL Imaging Module and SL Workstation
Product ID:
000000-2036-444
Focus on the essentials

A straightforward instrument focused strictly on the essentials – the ZEISS SL 115 Classic slit lamp delivers outstanding optical and mechanical performance and combines affordability, superb precision and reliability. Its convenient, single-handed, practice-oriented operation can be further enhanced with an integrated imaging solution as well as other optional accessories to support additional applications.

Important note: The  pictured fixation light is not included in the standard delivery package.
Prices visible after login
Excl. GST
Technical Data

ZEISS SL 115 Classic
Technical data
Magnification
8x, 12x, 20x with 10x eyepieces
Field of view diameter
25 … 10 mm
Eyepiece magnification
Super high-eyepoint eyepieces 10x; compensation of ametropia ±8 D
Width of slit image
Continuous from 0 to 14 mm
Length of slit image
In steps 0.5 / 3.5 / 8 / 14 mm; continuous 1 … 14 mm
Rotation of slit image
Continuous ±90°
Decentration of slit image
±4° horizontally, click stop at 0°
Swivel range of slit projector
180°, scale for angular difference; click stop at 0°
Angle of incidence
0°
Filters
Blue, green (red-free), swing-in; heat-reflecting filter, permanently integrated; diffusing screen, swing-in; barrier filter (yellow)
Free working distance
exit prism/patient's eye
73 mm / 2.9 in
Travel of instrument base
30 mm (vertical) / 1.2 in (vertical)
110 mm (lateral) / 4.3 in (lateral)
90 mm (axial) / 3.5 in (axial)
Vertical travel of headrest
59 mm / 2.3 in
Projection illumination
6 V / 10 W halogen lamp
Brightness
Continuously adjustable
Rated voltage
100 … 240 V ±10%, self-sensing, 50 / 60 Hz
Weight
Basic instrument 9.75 kg (21.49 lbs); headrest 1.25 kg (2.76 lbs)
Dimensions of basic instrument
(W x H x D)
300 mm x 430 mm x 355 mm
11.8 in x 16.9 in x 13.9 in

Important notice:

Please refer to the product brochures available in the tab "More information" to view the complete list of technical specifications, especially regarding the SL Imaging Module and its minimal requirements for computer hardware.

Standard Delivery Package

FAQ

Further Information

Get to know the SL 115 Classic:

Standard Delivery

WE OFFER FREE SHIPPING ANYWHERE IN INDIA

Standard delivery times for products "Available to order" is 5-6 working days from the date of placing the order.

Standard delivery times for products under "Out of stock" tag can be up to 2-3 weeks from the date of placing the order.

For any assistance please contact us at 1800 103 5264 or email us at support.in@zeiss.com

Best Regards,

ZEISS India Online Team